Here's another one of those gutsy community initiative storys worth celebrating.

Brixton Energy had just closed its second share launch, Brixton Energy Solar 2

[5]

, which had raised £70,000.  Its first project, Brixton Energy Solar 1

[6]

, was the UK's first inner-city community-owned solar power station, a 37kW solar array on the roof of Elmore House on the Loughborough Estate.  The second was a 45kW system spread over the roofs of the 4 housing blocks of Styles Gardens.  I joined Agamemnon Otero of Brixton Energy on the roof of a neighbouring tower block on a crisp and clear winter day, with a clear view over the solar systems that Brixton Energy had already installed (see picture above), to ask him more about the project.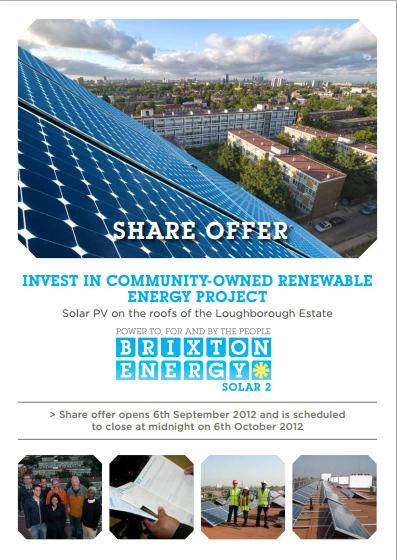 Can someone please explain in simple terms what this amount of power equates to. What size settlement would this cater to, if we were all energy conscious, and using it wisely in our homes, and substituting most of the water heating with direct solar?
What I saw through Rob's excellent summary was a project that engaged with people:
...we knocked on doors and find out what people want. You know, we did public engagement and served organic bread and lentils, but people wanted sandwiches and crisps, so we served sandwiches and crisps.
...all thecommunity. In a mutually respectful process:
At our community engagement events/ workshops and people would say, "I hope you guys can do this again for us and other people". Our Solar Panel Making Workshops attract, mom's, grandparents, little kids from the estate and beyond. They'd be making these small solar panels, and saying, "this works".
Another time, a woman who lives here, a single mum, 4 kids, with 2 jobs, said, "this is good.  I'm saving money on my energy bills, my kids got inspired in your workshops".  She then said, "I just hope this can go to other estates".
The philosophy behind this is about so much more than providing electricity.
As soon as you take responsibility for something and you give and you take back and you give and you take back, you develop self will and self belief, and that's what's been taken away from people.  Again and again I see that the best way to get people involved is to allow them to take back part of their own autonomy.
Read the full article here, on Rob Hopkins blog [7].