'Wise Response' is Seeking Your Support for Parliament to Endorse a Risk Assessment for New Zealand Via our Avaaz petition: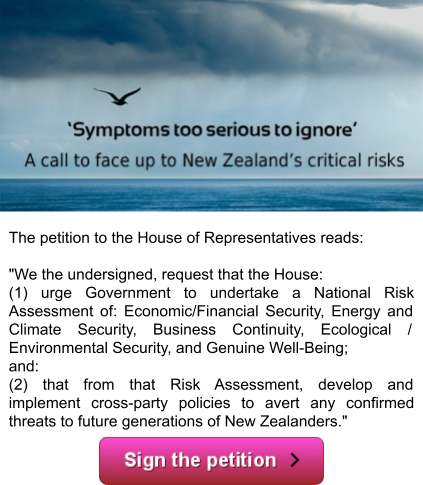 [11]

Almost daily credible new reports suggesting our "global village" is coming under increasing stress from worrying underlying environmental, social and economic trends that are largely ignored by our politicians.
At the same time, we know our country is heavily dependent on oil, globalized supply chains, distant markets, a stable global financial situation and reliable access to resources, including a livable climate. As complexity grows and stress increases, so too does the risk of failure somewhere in this support system.
More specifically we are worried about trends in climate, energy and financial security, by how resilient our business sector is, by the precarious state of our environmental and social well-being, and the legacy we may be leaving our children. We are concerned that Parliament has not prepared for such risks to our national security, especially as a crisis in any one of these would likely destabilise the others.
Instead of keeping our heads in the sand, our group "Wise Response" is calling on Parliament to commit to a quantitative cross-party risk assessment of how and exactly where it is exposed to these threats as a rational and integrated basis for sound planning. We see the process as inclusive and unifying.
As part of building publicity for this intiative, our plea has been backed by a raft of prominent New Zealanders including Dame Anne Salmond, Sir Lloyd Geering, Bryan Gould, Te Radar, Tim Hazledine, Chris Trotter, Neville Peat, Anton Oliver, Hoani Langsbury, Morgan Williams, Janet Stephenson, Peter Barrett, Fiona Farrell, Keri Hulme, Wayne Smith, Sir Geoffrey Palmer, Gerry Te Kapa Coates, Chris Laidlaw, and many others, including 20+ organisations.
But now we are seeking your support. Parliament needs to hear loudly and clearly that there is popular support – even demand - for them to confront and assess these critical threats.
So add your name to the petition that we are going to present to Parliament on Wednesday April 9 from 1.00p.m. and please come and support the handover of the petition if you can. The full programme is available at http://bit.ly/wr-submissionnews [12].
OTHER ACTION YOU CAN TAKE:
Share our website and facebook page to raise the profile of our appeal: http://bit.ly/wiseresponse [13] and http://bit.ly/wiseresponse-facebook [14]
Read the full text of the appeal and the full list of 100 original signatories on our website: http://bit.ly/wiseresponse [13]
Come to the presentation of the Appeal to Parliament to show your support in person. 1:00pm, on Wednesday 9th April 2014, in the grounds of Parliament, opposite Seddon Statue. http://bit.ly/wr-submissionnews [12]
FOR MORE INFORMATION:
Watch the 45 min talk given by Sir Alan Mark over the last year all over the country, presenting the case for the appeal: http://bit.ly/wiseresponsetalk [15]
Listen to the 12 minute 'Our Changing World' episode in which the Wise Response appeal is explored, through interviews with 3 of its founding members: http://bit.ly/wiseresponse-ocw [16]
Thanks for your attention and support of this critical matter!
The Wise Response Team